Products
600W Pure Sine Wave Power Inverter With Charger
600W Pure Sine Wave Power Inverter With Charger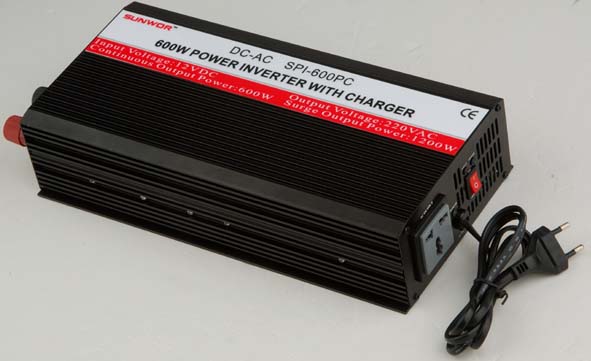 Power inverter instantly convert low voltage DC power to high voltage AC household power.
With innovative design and super efficiency, SUNWOR power inverter is widely applied for power tools, home appliance, office equipment, portable equipment…etc.
You can use in many places, such as cars,trucks, trailers, boats, solar system, wind generator.
● Features
◆ 12V or 24V or 48V DC input
◆ Output waveform: Modified sine wave
◆ Power On/Off switch
◆ LED indication
◆ High efficiency>90%
◆ High-velocity cooling fan
◆ Anodized aluminum case provides durability & max heat dissipation
◆ 8pcs/carton,Carton Size:42.5×42×42cm,G.W:24kg
◆ 1 year warranty

◆ All protection functions:
Soft start
AC output short-circuit and leakage protection
High-low voltage isolation
Input DC low voltage alarm,then shutdown
Input DC high voltage alarm shutdown
Overload shutdown
Over heat shutdown
Input polarity reverse shutdown
3-stage smartly charging
Fully charged,stop charging automatically


● Specification
Item No.

SPI-600PC12

SPI-600PC24

Output

AC Voltage

100/110/120VAC,220/230/40VAC

Continuous Power

600W

Surge Power

1200W

Waveform

Pure Sine Wave

THD

<5%

Input

DC Voltage

12VDC

24VDC

Voltage Range

10.5~15VDC

21~30VDC

No Load Current Draw

<0.8A

Fuse

35A×3 pcs 15A×3 pcs

Charging Current

10A

Protection

Battery Low Alarm

10.5+0.5V

21+1V

Battery Less Shutdown

10+0.5V

20+1V

Overload

>900W,shut down,re-operate automatically when load in normal

Over Voltage

15~16VDC

30~ 2VDC

Over Temperature

>65 ℃ ,Shut off,re-operate automatically when temperature goes down.

Short Circuit

Shut off,re-operate automatically after fault condition is removed.

Input Polarity Reverse

Fuse burnt,replace with a new fuse.