Products
MS-15
15W Mini Size Switching Power Supply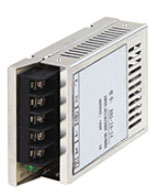 Technical Data
Index Type

MSA-15-5

MSA-15-12

MSA-15-24

Dc Voltage

5V

12V

24V

Voltage Tolerance

±2%

±1%

±1%

Rated Current

3A

1.3A

0.7A

Current Range

0-3A

0-1.3A

0-0.7A

Ripple&Noise(Max.)

50mVp-p

50mVp-p

100mVp-p

Line Regulation

±0.5%

±0.5%

±0.5%

Load Regulation

±1%

±0.5%

±0.5%

Rated Power

15W

15.6W

16.8W

Efficiency

65%

68%

72%

Voltage Adjust Range

+10 -5%

±10%

±10%

Voltage Range

85~132VAC/170~264VAC auto switch47~63Hz;240~370VDC

Ac Current

0.5A/115V0.25A/230V

Inrush Current(Max.)

cold start current 15A/115V30A/230V

Leakage Current

<0.5mA/240VAC

Overload Protection

105%~150% type:current limitation, auto recovery

Over-voltage Protection

......................

Over-temperature Protection

......................

Temp. Coefficient

±0.02%/℃(0~50℃)

Setup.Rise,Hold Time

200ms,100ms,30ms

Vibration

10~500Hz,2G10min,/1 cycle,60min,each axes

Withstand Voltage

I/P-O/P :3KVAC I/P-FG:1.5KVAC O/P-FG:0.5KVAC

Isolated Resistor

I/P-O/P,I/P-FG,O/P-FG:500VDC/100MΩ

Working Temp. Humidity

-10℃~+60℃(REFER TO CHARACTER CURVE),20%~90RH

Storage Temp. Humidity

-20℃~+85℃,10%~95%RH

Dimension

78×48×21mm

Weight

0.06kg

Safety Standards

Design refer to GB4943,UL60950,EN60950

EMC standards

Design refer to GB9254,EN55022 Class B
Note:
1.All parameters NOT specially mentioned are measured at 230VAC input ,rated load and 25 of ambient temperature.
2.Tolerance:includes set up tolerance,line regulation and load regulation
3.Ripple&noise are measured at 20MHZ of bandwidth by using a 12 twisted pair-wire terminated with a 0.1uf&47uf parallel capacitor.
4.line regulation:min&max voltage of the rated load.
5.load regulation:load from 0 to 100%.